Fayette County Texas



F

ayette

A

mateur Radio Transmitting Society
FARTS is an Un-Club
(no dues, no meetings, no politics)
Join us for Coffee
Wednesday mornings @ Hank's in La Grange
Saturday mornings @ Mexico Lindo in Smithville
0730
NA5RC Ham Links
Coverage Plots
Allstar Node Status
Amateur Radio is a Contact Sport





Follow us on Facebook


Our Equipment and Projects
FREQUENCY
NOTES
145.27
T82.5/114.8

27 West, Bastrop: Kenwood TKR-720

145.27
T114.8/114.8

27 East, La Grange: Motorola MSF-5000

145.27
T100.0/114.8

27 North, Smithville: Kenwood 750, EchoLink 455276 (N5FRT-R)

D-Star VHF

We are putting up a D-Star hotspot. Unsure of the frequency we will use but it will be in the 147 Simplex range.

441.550
T114.8

UHF-1, Bastrop: This is our UHF talk-around and back-up comms repeater.

442.300
T114.8

UHF-2, La Grange: Allstar Node 43965

441.300
T114.8

UHF-3. This is our experimental repeater.

927.1625
T151.4

We host this repeater in La Grange for the Austin Roadrunners. This is Allstar Node 42205.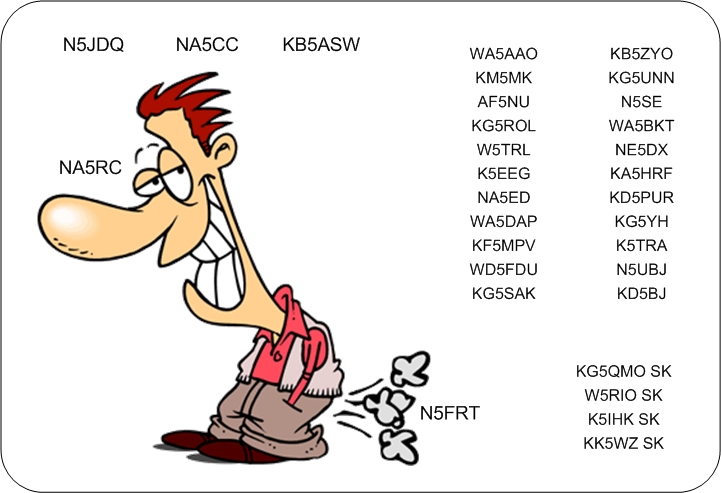 Contact Info
na5rc@arrl.net